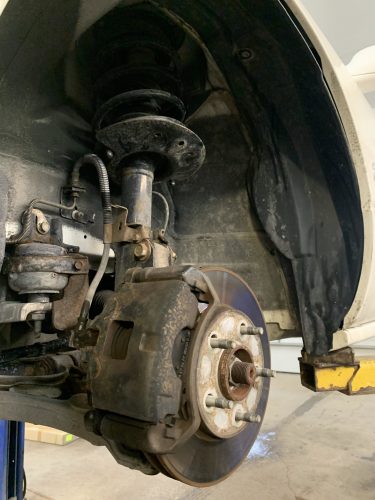 When drivers need new shocks and struts for their vehicle, they can rely on the experts at Royal Wheel Alignment. If you need shocks or struts for your vehicle, no matter what you drive, call us at (605) 342-2636. One of our experienced technicians can help get you started. We service Rapid City, the Northern Black Hills, Southern Black Hills and surrounding areas. 
It's a well-known fact that the control components in your vehicle help improve braking capabilities, handling, and controllability. Well-maintained shocks and struts will help improve your safety and the safety of the other drivers on the road. That's why it's important to have your shocks and struts replaced roughly every 50,000 miles.
Signs You Need New Shocks or Struts
If you experience any of these warnings when you drive, it might be time for new shocks or struts from our shop.
Excessive Bouncing
Nose Dives/Rear End Dipping
Tire Cupping
Leaking Hydraulic Fluid

The life of your vehicle's shocks and struts depends on the driver as well as road conditions, which is why our mechanics check shocks and struts during every tire, brake, and alignment service to ensure your shocks and struts meet manufacturer standards.
Trust the staff at Royal Wheel Alignment with taking the lead on your search for new shocks and struts today. Call us now to get started.
We perform vehicle inspections, alignment and brake repairs, 4 wheel drive repair, and make sure your shocks and struts are working properly. If you need any of these things worked on, we are your shop!